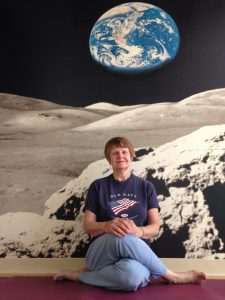 Kathy's mission statement is to help people learn about yoga and how it can help them improve their health and well-being.  A lot of people are of the belief that one has to be flexible in order to do yoga, yet the opposite is true.  There is so much that yoga can do for people through stretches, postures, learning to breathe properly, and relaxation.  Kathy teaches a yoga that is enjoyable and can also be a method of self-transformation.
Kathy's interest in yoga came early in the 1970's after giving birth to her first child.  Lilias Folan had a show on PBS at the time.  For a stay at home mom this was perfect.  Unlike now, there were not many yoga studios around the area.
After many life changes and many years of an off and on yoga practice, interest in yoga peaked again in the late 1980's to relieve stress from a return to college and meeting its' responsibilities, working full time, dealing with the grief and loss of her father, and raising two teenage boys as a single parent.  Again yoga practice was through books and Lilias on PBS, classes were available but cost was prohibitive at that time.
It wasn't until the 1990's that serious study of yoga began at the Himalayan Institute of Buffalo.  College was completed but now the career of Substance Abuse Counselor took hold and became all consuming. Stress levels began to increase.  At this time Kathy also married off two sons, helped her best friend fight a two year losing battle with Non-Hodgkins Lymphoma and also fought her own battle with Melanoma skin cancer.   If it wasn't for the yoga/meditation Kathy says, depression certainly would have set in and she would have had a difficult time continuing on.  Yoga provided peace and calmness that could not be matched by working out in a health club or anywhere else.  Her family wasn't as convinced as she was of this "yogurt" practice, but she persisted.
Around 1998 Kathy started her teacher training at the Himalayan Institute of Buffalo.  Training took place in Bufflalo and also Honesdale, PA where she was exposed to many great teachers such as Rolf Sovik, Pandit Rajmani Tigunait, Sandra Anderson, Shari Friedrichsen, Jaime Schmitt, Lilias Folan, Srivatsa Ramaswami, and Rod Stryker.   She completed the 200 hr. YTT certification and began teaching at various venues in WNY part time, while still working as a Chemical Dependency Counselor.   Her teaching opportunities consisted of a nursing home, various health clubs and gyms, a chiropractor's office, the staff of People Incorporated, a half-way house for alcoholic/addicted men, the staff of WNY children's development center, the staff at Baker Victory, and at NYS Parks (yoga on the beach in Hamburg).
In 2003, Kathy was working as the site supervisor and counselor of an outpatient Chemical Dependency Program.  On a Friday morning she had a trans-ischemic attack at work.  She was unable to work in her professional capacity.   Her own yoga practice stopped and naturally so did the teaching.  It took months for her to come back to simple abilities let alone the complex.  Kathy vowed that if she was able to return to a yoga practice again she would make significant changes in her life so that she would not lose permanently what she grew to love-Yoga.
The slow work of learning yoga stretches and poses again, began to take hold.  As the yoga came back so did the thought of teaching.  Teaching became a challenge, because she had to learn to teach without being able to do the poses completely.  Clear and succinct language became important along with using students to model poses.  Gradually her health and skills improved.  She returned to her professional position as supervisor/counselor on a part time basis.  After a few months she began to experience discontent with her work in chemical dependency and wanted to do more work teaching yoga.  What followed was an agonizing year of trying to decide to stay or retire early after 25 years of service.  She decided to retire and devote her time, heart and soul to teaching others yoga.
Kathy continues to teach in the community at a mental health program, she also teaches at a local church, does demonstrations,  and has her own little studio in West Seneca.  If you have any questions regarding classes at the studio, setting up private sessions, or scheduling a demonstration feel free to call 903-5020.